Bassin 120
6211AK Maastricht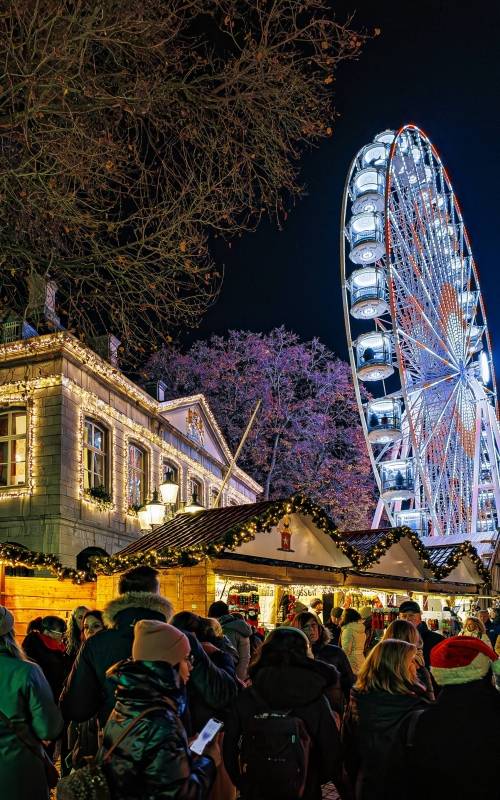 Magisch Maastricht Vrijthof
Be enchanted by Magical Maastricht Vrijthof
The most atmospheric winter event in the Netherlands is even more magical this year. Visit 'Magisch Maastricht Vrijthof' in December and be enchanted by winter activities, nostalgic attractions, delicious food, the cozy Christmas market, and all the new surprises.
Attractions
The covered ice rink, spanning an impressive 1,000 square meters, has been the crowd favorite at Magisch Maastricht Vrijthof for years. New this year is a smaller replica of the Saint Servatius Bridge, which you can walk over or skate underneath. Venture onto "thin ice" again this year at the street curling rink, where you can challenge friends to a game of "stone pushing". This season, we're introducing the enchanting Lunapark. As tradition would have it, the carousel also makes its return. Another highlight is the new 45-meter-tall Ferris wheel, with enclosed glass gondolas, offering a spectacular view of the Vrijthof and the city of Maastricht.
Eten & drinken
Magisch Maastricht Vrijthof is not only renowned for its splendid attractions but also for its culinary delights. The heartwarming drinks and dishes, so typical for the wintry December month, are abundant. You can grab a bite on the go at one of the many chalets in the Christmas market. For a snack and a drink, you're also welcome in the cozy Grand Café, located right next to the ice rink. Looking for something authentic? Then head over to the Almhütte, where typical Austrian dishes are on the menu. Culinary delights also cater to those who prefer vegetarian and vegan dishes. A new addition this year is the winter café, where visitors can relish even more of the wintry atmosphere.
Christmas market
In the atmospherically lit stalls of the traditional Christmas market, you're surrounded by an enchanting ambiance of wintery joy and festive cheer. Here, you can find beautiful handcrafts, unique and made with love, perfect for gifting or decorating your own home. The dazzling Christmas decorations range from classic ornaments to modern creations, ensuring every visitor finds something to their liking. There's also a broad array of gift ideas for both young and old. As you wander through the Christmas market, you'll come across numerous chalets offering a variety of delicious winter treats. Indulge in crêpes, poffertjes, and waffles, or savor savory flammkuchen and flavorful curry sausages. And what's a visit to a Christmas market without the warm, spicy aroma of mulled wine? A glass of that, or a creamy hot chocolate topped with whipped cream, completes the experience. Take a moment to sit, soak in the surroundings, and cherish the togetherness, warming up with these wintery beverages.
Agenda / Events
Various events and activities will be organised during Magical Maastricht. When the agenda is ready, it will be shared and regularly updated.