Bassin 120
6211AK Maastricht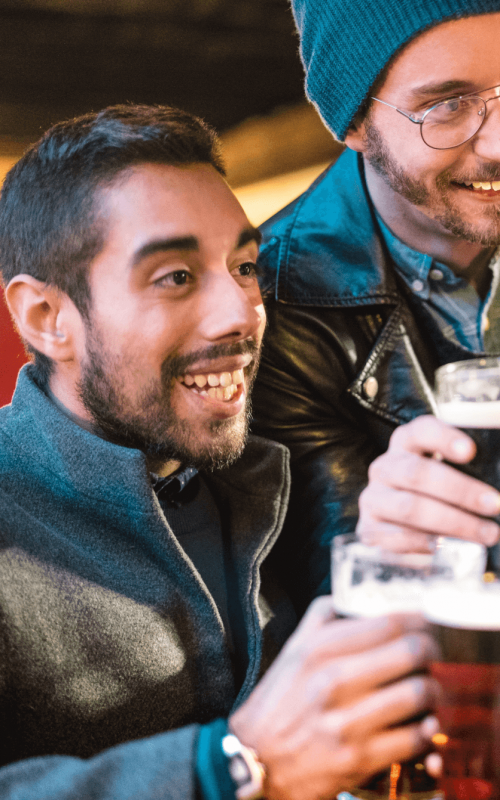 Frequently asked questions
Frequently asked questions
Magisch Maastricht is open from the 2nd to the 30th of December 2022
Monday to Thursday from 10:00 – 00:00
Friday to Sunday from 10:00 – 01:00
The non-food Christmas market and the Regional Products Square close daily at 22:00
Exceptional opening hours:
24th December: open from 10:00 – 18:00
25th December: open from 11:00 – 18:00
26th December: open from 11:00 – 00:00
31st December: closed
Magisch Maastricht Vrijthof takes place at the Vrijthof in Maastricht.
Yes, dogs are welcome and must be on a leash at all times. Dogs are not allowed in attractions, with the exception of assistance dogs. Please note that it can be very busy and noisy, especially at weekends, and therefore Magisch Maastricht may not be the best environment for dogs.
No, all attractions can be visited without reservation. If you want to be sure of a place on the curling alley, reserve your desired time slot here.
Annoying! Send an e-mail to vragen@magischmaastrichtvrijthof.nl with a description (if possible, with a photo) of what you have lost. We will do our best to help you! Please note that Magical Maastricht Vrijthof is not responsible for lost goods.
Of course, during Magisch Maastricht Vrijthof there are plenty of opportunities to have a drink and/or a bite to eat. You can do this at the two large catering establishments, the chalets at the Christmas market and the regional products square.
There are various (paid) parking facilities in the vicinity of Magical Maastricht Vrijthof.
No, the winter event Magisch Maastricht Vrijthof is freely accessible. However, you do need tickets for various attractions. Click here for more information!
It takes 10 minutes to walk from Maastricht station, through the city centre, to Magisch Maastricht Vrijthof.
Yes, Magisch Maastricht Vrijthof cooperates with Stichting de Knoevel. Various activities are organised in line with the vision and strategy of the De Knoevel Foundation. The Knoevel Foundation provides pampering days for families with long-term sick children from South Limburg. During a Knoevel day, the family takes centre stage, we try to make dreams come true and allow the whole family to enjoy a carefree enjoyment. So that everyone returns home with the best stories and memories.
Yes, there are several options at both the two main catering outlets and the chalets at the Christmas market and Regional Products Square.
From Maastricht railway station, several buses will take you to Vrijthof. Please note that the buses do not stop directly at the Vrijthof because of the closures around the event. At Maastricht Station, there are taxis that will gladly take you to Magisch Maastricht Vrijthof.
If you would like to get in touch with the organisation of Magisch Maastricht Vrijthof, please contact:
Sponsorship & Arrangements - sales@magischmaastrichtvrijthof.nl
Marketing - marketing@magischmaastrichtvrijthof.nl
General questions and found/lost property - vragen@magischmaastrichtvrijthof.nl
Yes, you can certainly visit Magisch Maastricht Vrijthof as a disabled person. We make every effort to make the various catering establishments and activities wheelchair-accessible. Unfortunately, not all attractions are wheelchair accessible.
The safety and comfort of our visitors is paramount. Magisch Maastricht Vrijthof has a robust security management plan, which is coordinated by event security and the regional police. If you see anything suspicious or something that doesn't feel right, please report it to a member of our security team.
To maximize security, a check may take place upon entry. This could include the use of metal detectors and body searches. All bags are searched. Please note: these searches are a condition of access. Any person with illegal or prohibited items or who does not wish to be searched will be refused entry. Also note the prohibited items listed below. Security checks can lead to delays when entering Magical Maastricht Vrijthof, keep this in mind.
We ask all visitors to be vigilant and never leave bags and belongings unattended. Any unattended item can be disposed of in accordance with our security protocols.
Yes, there are cameras on the Magisch Maastricht Vrijthof site for security purposes. These cameras make recordings and are only viewed with police approval, if there is reason to do so.
Lockers are available at the skating rink.
At the various ticket offices, you can buy vouchers (at €2.90 each) with cash and (contactless) pin payments. These vouchers can be used in the catering outlets. At the food & beverage outlets in the chalets and attractions, you can use cash and (contactless) pin payments.
Magisch Maastricht Vrijthof is an outdoor venue. Make sure you wear appropriate clothing as we are open in all weathers. There are several covered venues scattered around the site, providing warmth and shelter in varying types of enclosure - some of which are heated. The organisers may close certain attractions if safety cannot be guaranteed due to weather conditions.
At Magisch Maastricht Vrijthof you will find the following attractions:
- an indoor skating rink of no less than 1,000 square metres
- a curling rink, where 2 to 12 people can compete against each other
- a tube slide at the foot of the Saint Servatius Basilica and Saint John's Church
- a magic carousel
- a 45-metre-high Ferris wheel
Click here to see the full map of Magic Maastricht.
Tickets can be bought in different ways:
- at the ticket offices at the relevant attractions
- at the ticket offices of the two large catering establishments
Yes, there is a baby changing area at the Vrijthof.
Yes, you will receive a PDF by email after purchasing your ticket(s) that you can download and show on your phone at attraction entrance.